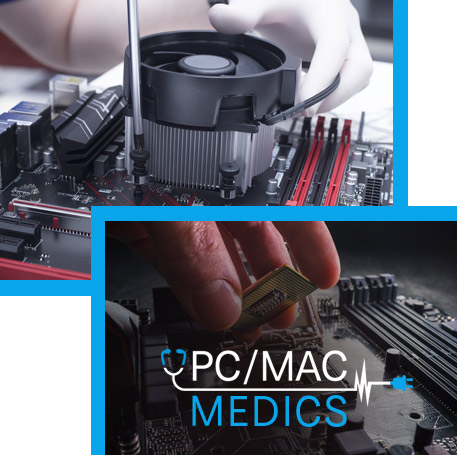 WELCOME TO PC & MAC Medics
Locally owned and operated, PC & MAC Medics is a computer repair company specializing in computer repair, technical support, networking services, and information technology consulting. We serve both small businesses and residential customers in Los Angeles and Ventura Counties.
PC & MAC Medics remain committed to providing customers with high standards of customer service, together with only the best computer repair services. With many years of experience in setting up, maintaining, and fixing a broad range of PC and Mac models, our certified technicians can help you get your home or business up and running again in the soonest time possible. 
We are fully insured, bonded, and our technicians are background checked before being brought into our team. They are trained and tested on our services, and their backgrounds and knowledge of different systems are taken into account for premium services. Also onboard are Apple-certified specialists able to diagnose and fix any Mac-related issues.
You can benefit from our remote assistance, which stands out as your fresh alternative to shuffling through help-desk calls and waiting days for repair.
Now, think of PC & MAC Medics as your in-house IT department. Most of our repairs are completed in less than 24 hours, giving you back a working computer at a price you can afford. So, if you are in Ventura or Los Angeles County and searching for trustworthy PC or Mac repair services, we are the tech geeks to consult. Contact us today.
need mac pc computer repair?