Trusted Apple Repair Services Provider
Fast, Affordable, Convenient Apple Repair Services
An Apple device breaking down is a pretty frustrating situation. But what is more challenging is finding a reliable
Apple service center
with certified and technically sound technicians to diagnose and troubleshoot all possible Mac issues. 
PC & MAC Medics
is a trusted
Apple repair services
provider in LA and Ventura Counties, providing fast, affordable, and convenient repairs for business and home Mac laptops. Our skilled technicians can comprehensively diagnose and repair all common types of Mac computer/laptop issues.
What's more, we fix, service, and maintain all Mac models, from iMac, MacBook Pro, MacBook Air, iMac Pro, to iMac Mini.
So, if you need convenient
Mac repair services
that do not break your pocket and are performed by Apple-certified technicians, feel free to contact our team at
805-222-6290
.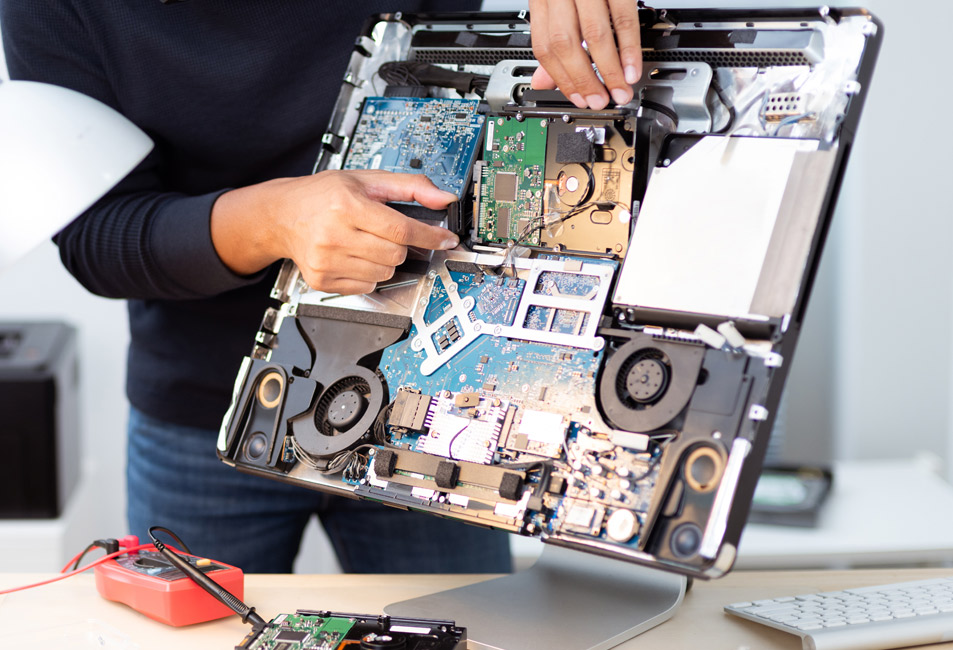 We have a team of computer technicians that have been in business together for over 15 years.

FAST & CONVENIENT SERVICES
Power up your workflow with Fast & Convenient tech support and Repair Services.

AFFORDABLE REPAIR SOLUTIONS
Get in touch with cheap and best PC and MAC repair service in Ventura and Los Angeles County.
Top Mac Medics were amazing! They came to me and had my problem fixed quickly. I highly recommend them for Mac computer repair issues.
Had a meeting in LA when I had issues with my laptop called Top MAC Medics and they came to me fixed the issues and saved the deal. Very fast knowledgeable and reliable
Mac Medics did an awesome job. They picked up my mac and had it back up and running fast and for a reasonable price! I'd use them again for any of my computer and technology issues. I'd highly recommend Mac Medics Computer Repair to friends and colleagues. Thanks again!
My pc had a ton of issues, it would shut down with error messages, I tried everything myself to fix it via anti-virus software/reboots etc, but it came to a point where it was either call those Geek Squad guys and get nowhere, or have this guy who was recommended by a good friend to come over and fix it for half the price. I've used him twice for 2 different computers. He's your one-stop shop. I've recommended him to a few people already. He gets the job done.
Why PC & MAC Medics is the Apple Service Center of Choice?
There are several benefits to choosing PC & MAC Medics as your preferred Apple service center. 
First, you meet
skilled and certified technicians
well versed with the nuts and bolts of Apple repair. We only hire technicians that are Apple certified to perform repairs fast and effectively. Our technicians go the extra mile to serve as your
patient, friendly advisors
on all Mac matters. 
Being an independent Apple service center, PC & MAC Medics usually have most spare parts in ready stock. This, combined with our technician's expertise, guarantees
a fast turnaround time.
To ensure that your Mac laptop/desktop serves you longer, we perform repairs using only the
highest quality spare parts
. 
Our Apple Repair Services
» MacBook and MacBook Air Liquid Damage Cleaning/Repair
We have an outstanding success rate of salvaging water-damaged MacBook and MacBook Air computers. You only need to send your gadget in and let our trusted technicians have a chance of saving it. Call
805-222-6290 now!
» Mac Screen Repair and Replacement
Our Mac screen repair and replacement services cater to all Mac display issues with the utmost care, whether broken, scratched, faded, blank, or distorted with horizontal/vertical lines.
» Battery Replacement for Mac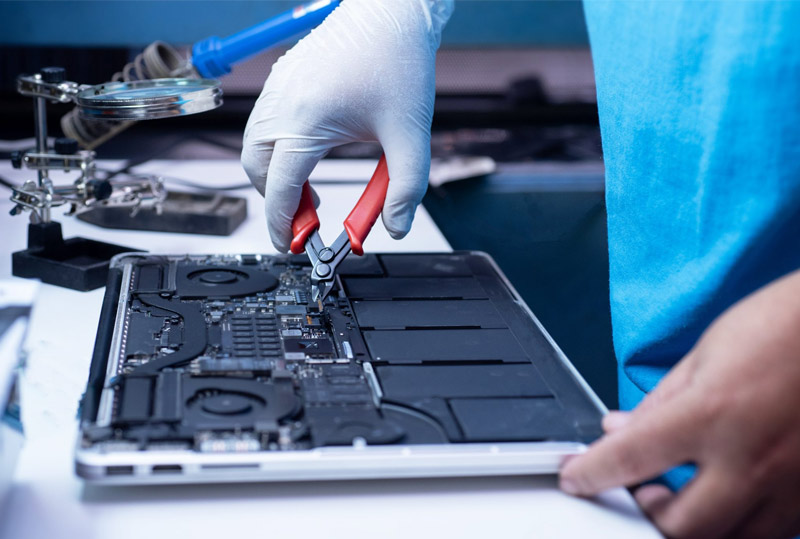 If your device has a bad battery, it might require charging all the time or shut down frequently. Compared to buying a new computer, replacing the battery is a lot easier on your wallet. The good news is that our technicians are experienced and trained to replace removable and in-built Mac batteries.
» Logic Board Replacement and Repair
Whether you've spilled a liquid on your Mac or dealing with a just dead logic board, our logic board repair and replacement specialists have got you covered. You pay only a fraction of the cost of a brand new Mac.
» Hard Drive Replacement with SSD or SATA Drive
If you notice any data transfer speed or storage issues, chances are your hard drive is the culprit. You can get ahead of these issues by having us replace your hard drive with a cutting-edge SSD (solid-state drive) or SATA (Serial Advanced Technology Attachment) drive. These drives are quiet, fast, and offer huge storage space. Call us today at
805-222-6290.
» Any Necessary Hardware Repair and Replacement
If you are struggling with any
Mac hardware issue
, reach out to us for immediate assistance. Extensively knowledgeable and experienced in Mac's innards, we can repair or replace your hardware and restore the working order of your device.
Mac Operating System Updates
» Mac Performance Upgrades
Even Macs are prone to slow down over time. Program and app requirements continue to grow, consuming a more significant portion of system resources and hampering the quick, responsive performance we expect from Mac systems. As a reputed Apple repair service center,
PC & MAC Medics
has proven methods to upgrade your device's performance, saving you from spending a lot of money purchasing a new device. 
Our team has the experience to upgrade your hard disk, so you store more games, apps, and visual content. If your HDD is old and sluggish, it might be time to upgrade to an SSD. SSD does not have moving components, which makes it more durable, reliable, and typically six times faster than a hard drive disk
If your applications take longer to load or your computer takes longer to boot or freezes or crashes frequently, RAM could be the culprit. Optimize your device's performance by letting our certified and experienced technicians upgrade your memory.
» Mac OS Upgrades and Reinstalls
Are you getting random Blue Screen of Death messages? Does your Mac frequently crash or display the no bootable device message? If so, we can help you upgrade to the latest operating system in the market to get your Mac working more efficiently and running its programs without lags. 
If rebooting your Mac fails to resolves lock-ups, errors, and other productivity-hampering behaviors, you will need to schedule an appointment at a trusted
Mac repair center
. Our Mac OS troubleshooting services could make all the difference between getting your device up and running and buying a new Mac (which can be expensive).
Running an older version of macOS not only puts your data at risk but also impacts your device's performance and reliability. So, it makes sense to have your OS updated to continue receiving security updates and new features for commonly used applications. Contact the PC & MAC Medics team today with questions about or assistance with upgrading your Mac to a current operating system. 
» Mac OS System Re-install
When is macOS reinstall necessary? Your Mac is probably behaving erratically, and you think reinstalling the OS might fix the issue. You might want to conduct a factory reset before the device leaves your possession. Alternatively, you may wish to revert to an older OS version if the latest version is upsetting you. Our team can reinstall your OS and drivers at a flat fee to offer a quick solution to your Mac issues and free up valuable space.
» Mac OS System Optimization
You do not have to invest in a new device to enjoy better performance. Our team of Apple-certified specialists can perform several adjustments geared to give your Mac OS a new spring in its step and rev up your device's performance. 
» Adware and Malware Removal
Malicious code ranging from viruses, adware, ransomware to Trojan horse can be downloaded into Mac devices without your knowledge. Turn to PC & MAC Medics for comprehensive adware and malware removal services that will get your device up and running as quickly as possible.
Need Apple Repair Services in Ventura and Los Angeles County? Help is on the Way!
Whatever the issue is with your Mac- no power, damaged display, overheating, bad drive, keyboard, battery, or logic board- the Apple-certified technicians at PC & MAC Medics have got you covered at fair rates. Our team's expertise allows us to resolve a full range of Apple repairs, upgrades, and replacements in the quickest time possible, saving you time and money. 
So, if you need fast, affordable, and reliable
Mac repair services in Los Angeles or Ventura County
,
contact us today
and have our trained, certified experts assess your device and recommend the best solution for you. 
need mac pc computer repair?