Trusted Computer Repair Services Provider
PC, Laptop & Mac Repair Services in Thousand Oaks, CA
Whether you are a business owner, a gamer, or a home user, you need to ensure that your computer is working smoothly. If you live in Thousand Oaks, PC & MAC Medics provides affordable and reliable PC, laptop, and Mac repair services. We understand how a slow-performing computer can delay your work and personal projects. 
Our team boasts experienced and expert computer technicians who can fix your computer's software and hardware issues. There's nothing that our computer experts can't do for your business and personal computers, from customization to installation and repair.

If you are looking for affordable and reliable computer repair services in Thousand Oaks, we are just a few clicks away. Get in touch with PC & MAC Medics to detect issues that are slowing down your machine. Our skilled and qualified IT experts offer exclusive computer repair services at competitive rates. We also provide support services to all our customers to contact us if you are having any trouble setting up your computer. 

We have a team of computer technicians that have been in business together for over 15 years.

FAST & CONVENIENT SERVICES
Power up your workflow with Fast & Convenient tech support and Repair Services.

AFFORDABLE REPAIR SOLUTIONS
Get in touch with cheap and best PC and MAC repair service in Ventura and Los Angeles County.
Top Mac Medics were amazing! They came to me and had my problem fixed quickly. I highly recommend them for Mac computer repair issues.
Had a meeting in LA when I had issues with my laptop called Top MAC Medics and they came to me fixed the issues and saved the deal. Very fast knowledgeable and reliable
Mac Medics did an awesome job. They picked up my mac and had it back up and running fast and for a reasonable price! I'd use them again for any of my computer and technology issues. I'd highly recommend Mac Medics Computer Repair to friends and colleagues. Thanks again!
My pc had a ton of issues, it would shut down with error messages, I tried everything myself to fix it via anti-virus software/reboots etc, but it came to a point where it was either call those Geek Squad guys and get nowhere, or have this guy who was recommended by a good friend to come over and fix it for half the price. I've used him twice for 2 different computers. He's your one-stop shop. I've recommended him to a few people already. He gets the job done.
Thousand Oaks PC & Mac Repair Services for Residential and Commercial
The best part about our computer repair services is that we not only serve residential computer users. We also provide affordable and efficient computer repair services to commercial clients. So if you are a home user, an entrepreneur, or a business owner, PC & MAC Medics will guarantee quick and easy repair services.  
» Thousand Oaks PC Computer Repair
Our computer repair service operates in Thousand Oaks and all major areas of Los Angeles County. We serve as your local full-service computer repair partner with a team of certified and qualified computer technicians. Regardless of the problem you are facing with your computer, we can help you fix all software and hardware computer issues. 
» Thousand Oaks Laptop Repair
We don't just fix standard desktop computers. Our skilled staff can detect problems in the latest laptop machines. If you are experiencing any laptop problems such as data corruption, malware, virus, or overheating, trust PC & MAC Medics to provide you the most affordable laptop repair services in your local community.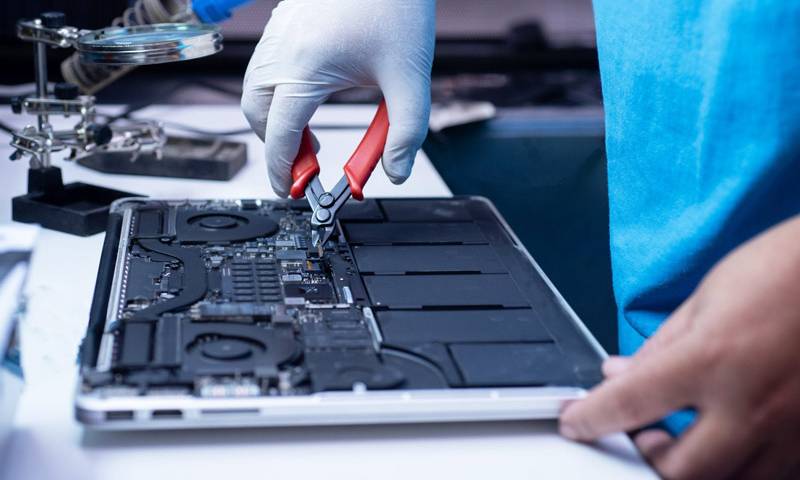 » Thousand Oaks Mac Repairs - iMac, Macbook Pro, MacBook Air
Not every computer repair company can provide Mac repair services. That's because these machines are too sophisticated for amateur computer repair professionals. Our qualified and certified technicians possess the required expertise to analyze common speed and memory issues in these machines. Whenever you are having trouble with your Macbook Pro, iMac, or MacBook Air, get in touch with us to fix your Apple device. 
» Computer Network Repair in Thousand Oaks, CA
If you need to set up, optimize, or install a new network, you need professionals to do the job. That's because a layman computer user does not have the necessary knowledge to create a wireless or wired network system. Whether you need computer network repair services for your home or business computers, we are here at your service. Our teams can help you with routing and switching issues, WAN optimization, and wireless set-up, etc. 
» Thousand Oaks Virus Removal Service
Your home or business computer may be vulnerable to several security threats and viruses. While installing a robust malware protection system is enough to keep your computer services, you may also require a thorough virus removal procedure. Trust in our virus removal experts in Thousand Oaks for your gaming, home, or business computer. Apart from fixing all bugs and removing malware from your machine, we will install the best antivirus program on your device so you can protect your computer in the future. 
» Hard Drive SSD Upgrade in Thousand Oaks, CA
If you think your new computer is performing slower than you expected, you may need a professional Hard Drive SSD upgrade. Even your old computers can give in after performing at high speed for only half a decade. Many of the latest photo-editing and other content creation software require you to upgrade your system. Our experts will install a replacement Solid State Hard Drive in your machine and clone the old drive to it, according to your preferences. Enjoy working on your computer at an incredibly fast speed. 
» Thousand Oaks Build Custom Computers
If you are a gamer, a professional web/app developer, or a business owner, you may need specialized computers for boosting performance. Apart from repairing your existing machines, we can also build a computer from scratch. That way, you get a robust machine built to serve the desired purpose. Your new computer won't have any extra or unwanted programs that may slow down its speed. 
» Thousand Oaks Small Business Computer Services
Small businesses in Thousand Oaks value our computer repair services because we provide speedy and efficient solutions at competitive rates. Our skilled computer software and hardware technicians can detect all problems that may be obstacles to your company's success. We guarantee superior solutions for small businesses, so they don't have to hire a full-time onsite IT professional.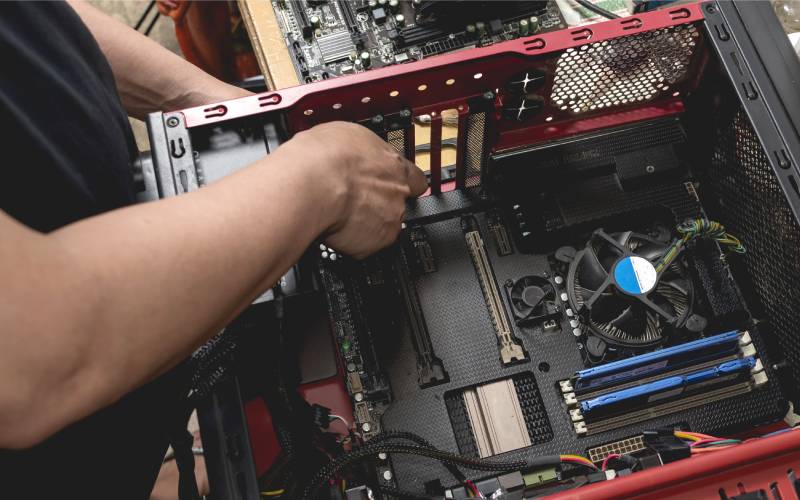 » Thousand Oaks Motherboard Repair and Replacement
The Motherboard or the logic board of the computer is the heart and brain of your machine. If you are looking to replace your Motherboard or need to identify any issues, get in touch with our computer repair experts in Thousand Oaks. A common computer user may not know how to examine or fix their system's Motherboard. Only professional technicians can repair motherboards or find the best replacement for your machine. PC & MAC Medics will analyze your computer's Motherboard to determine whether it needs repair services or a new replacement. 
» Thousand Oaks Windows Repair and Installation
You don't have to worry if your Windows is not loading properly or crashing. Our computer repair technicians can inspect your machine to find any glitches in the operating system. Thanks to the experience of our software experts, we provide affordable and quick Windows repair and installation solutions for both home and business users. 
» Thousand Oaks Mac OS Repair and Installation
Mac users are always on the lookout for professional OS repair and installation technicians. PC & MAC Medics is here for your rescue. We will run a diagnostic check on your Mac device to figure out what's troubling your system. We will take care of all Mac OS repair and installation issues without denting your bank account. 
» Other Computer Repair Services Include:
Setting up an original email account is crucial for creating a unique communication platform for every user or business. That's why we help you set up an email account that helps you design a unique communication channel for your venture or business. 
» Software Troubleshooting
From scanning to diagnosing and resolving your device's software issues, PC & MAC Medics take care of everything. Not everyone is tech-savvy. That means you may need our help even when you want to run a software diagnostic check on your machine. We will fix all errors and bugs in your computer's software. Our team adopts a systematic process for filtering out and resolving problems for restoring the normal operation of your computer. 
» Printer Install & Troubleshooting
If you are having trouble with installing your printer, there is nothing to worry about. PC & MAC Medics can help you resolve any connectivity issues that are preventing your printer from working. We don't mind fixing minor issues like fixing a loose cable or installing your printer. We love what we do, and that's what makes us unique from other standard computer repair services in Thousand Oaks. 
PC, Laptop & Mac Repair FAQs
PC, Laptop & Mac Repair Service Center in Thousand Oaks, CA
If you are looking for professional and reliable PC and Mac repair services in Thousand Oaks, we are here to provide quick and affordable solutions. Our technicians provide a host of computer repair services, from fixing your device to speeding up your machine. 
Contact us today
for all your computer-related problems. Whether you are a home user, a gaming enthusiast, or a professional, you don't have to deal with a slow computer. In most cases, you don't need to upgrade your system or buy replacement parts. Our teams will resolve the issues that are affecting your computer's speed and performance. Trust in skilled and qualified technicians for delivering cost-effective and premium-quality computer repair services. We are here to repair business, home, and gaming computers for people of all ages and professional backgrounds.
need mac pc computer repair?