Trusted Computer Repair Services Provider
Calabasas, CA PC, Laptop & Mac Repair
Trusted Computer Repair Services for Calabasas Residents and Businesses. Call 805-222-6290 for a Free Estimate. 
A computer is more than just a tech toy – it's your work, school, and social life. It should help you excel in whatever you do. But sometimes, technological masterpieces get fussy, and so do we. 
If you live in Calabasas, CA, and your desktop, laptop, or Mac is not working as it should, let the friendly geeks at PC & MAC Medics help you. Our goal is to make your life easier by providing affordable, quick, and convenient computer repair services and IT consulting in Calabasas, CA.

Whether you need to isolate the cause of a performance problem or upgrade your machine's capabilities, trust our blue-ribbon team coupled with time-tested techniques and modern tech to restore your device to peak performance. 
PC & MAC Medics offers same-day service on several PC, laptop, and Mac repairs. No surprises here- our certified computer repair technicians in Calabasas, CA, always provide a written estimate of diagnostic findings and repairs needed. What's more, we do not push for unnecessary upgrades. 

We have a team of computer technicians that have been in business together for over 15 years.

FAST & CONVENIENT SERVICES
Power up your workflow with Fast & Convenient tech support and Repair Services.

AFFORDABLE REPAIR SOLUTIONS
Get in touch with cheap and best PC and MAC repair service in Ventura and Los Angeles County.
Top Mac Medics were amazing! They came to me and had my problem fixed quickly. I highly recommend them for Mac computer repair issues.
Had a meeting in LA when I had issues with my laptop called Top MAC Medics and they came to me fixed the issues and saved the deal. Very fast knowledgeable and reliable
Mac Medics did an awesome job. They picked up my mac and had it back up and running fast and for a reasonable price! I'd use them again for any of my computer and technology issues. I'd highly recommend Mac Medics Computer Repair to friends and colleagues. Thanks again!
My pc had a ton of issues, it would shut down with error messages, I tried everything myself to fix it via anti-virus software/reboots etc, but it came to a point where it was either call those Geek Squad guys and get nowhere, or have this guy who was recommended by a good friend to come over and fix it for half the price. I've used him twice for 2 different computers. He's your one-stop shop. I've recommended him to a few people already. He gets the job done.
Why PC & MAC Medics for Computer Repair in Calabasas?
Experience:

Our computer repair technicians have completed rigorous training, are certified by highly respected institutions, and boast the expertise to fix any issue with your PC or Mac.

Fast and convenient

: We aim to resolve all issues on the first visit and provide quotations for any extra work needed or requested. We also offer remote assistance and pick-up services for your added convenience. 

Affordable

: Our goal is to provide superior computer repair and customer service while keeping our prices affordable for everyone. 
Calabasas PC & Mac Repair Services for Residents and Businesses
Your computer is as important to your business as your heart is to your body, which means you need it working and running like clockwork. But when it breaks down, that marks the onset of problems. And problems cost you money.
When you need PC or Mac computer repair services for your home or business, make sure to choose a partner you can trust. PC & MAC Medics provides comprehensive PC and Mac repair services to residents and businesses across Calabasas, CA. Our team includes a combination of industry-certified technicians and Apple-certified pros – some of whom have been in the IT industry for over 15 years.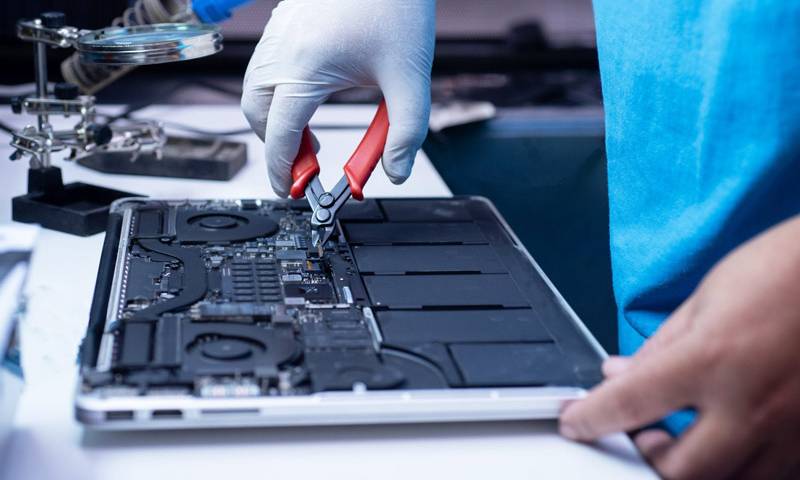 Whether you're a gaming enthusiast, a content creator, a photo-editing enthusiast, or a business owner, there are computer-related problems you cannot solve and that we can help you solve. Give us a call today at 805-222-6290.
Calabasas PC Computer Repair
Stop throwing money away on non-customer-oriented companies that are slow and unresponsive! For PC & MAC Medics, your personal computer means more than just another gadget to fix. It's about helping you stay connected and productive.
We provide top-rated Calabasas PC repair services, helping you get back on track with your work. It does not matter if it is a simple repair or a major overhaul; we're standing by to help. You get back to business faster and more affordably than you ever thought would be possible.
Laptops have a knack for breaking down at the most inconvenient time. Perhaps the screen went blank, or you spilled coffee on the keyboard just when working on a work presentation. Whatever your situation, there is nothing more chilling than having to explain it to your boss. And even if you own a business, you do not want to waste time hoping some DIY procedure will keep you from having to replace your machine. 
At PC & MAC Medics, we remain committed to rescuing you from potential technological pains, providing immediate assistance for any of your laptop issues. From virus removal, software installation & troubleshooting to hardware replacement, our Calabasas-based "PC doctors" have you covered. Additionally, you get a free diagnosis for most laptop problems.
Calabasas Mac Repairs- MacBook Air, iMac, MacBook Pro
How can I fix my MacBook in a blink? Sadly, most of the time, it is impossible. And while you can take your device to an Apple Store, often you will need to wait longer to get it back. Still, trusting an amateur computer repair specialist to fix your Mac or PC could mean more damage and expenses. 
You do not have to go through the trouble. Take advantage of the expertise of a reputable Calabasas Mac repair center, like ourselves, PC & MAC Medics. You get the confidence that your computer and data are treated with care. 
Here, it is all about maximum customer satisfaction. Our Apple-certified experts work round the clock to fix any issue with your Mac PC – big or small. What's more, we service a range of Mac models- iMac, MacBook Pro, MacBook Air- you mention them. 
Computer Network Repair in Calabasas, CA
Slow connections, VPN errors, duplicated IP addresses, viruses… the list of computer network issues is pretty long. PC & MAC Medics can help you create and maintain a smooth and efficient network environment for your Calabasas home or company. 
Our advanced network diagnostics tools help us detect and thoroughly resolve network issues, saving time and money! We can take care of tasks like setting up your wireless network, co-locating your network equipment, running backups, and troubleshooting malware and viruses. Our network maintenance services help keep networks up and running.
Calabasas Virus Removal Services
Having a virus on your computer is not just inconvenient; it can be an extremely stressful and worrisome experience. The thought of losing vital information to unknown third parties or losing your precious photos as malware eats away at the hard drive is an unsettling one indeed. That's where PC & MAC Medics steps in.
PC & MAC Medics provides virus removal services for residential and commercial clients in Calabasas. It does not matter whether you are held hostage by ransomware or your computer is giving you the run around with issues ranging from slow performance to blue screen of death. Trust that our Calabasas computer repair pros can have your device back in tip-top shape as quickly as possible.
Hard Drive SSD Upgrade in Calabasas, CA
Is your PC or Mac slowing down to a crawl or taking longer to boot? The problem might be insufficient disk space. However, you do not need to replace your computer to enjoy more storage space. PC & MAC Medics' hard drive-SSD upgrade services can help breathe new life into your old computer.
A solid-state drive (SSD) improves your computer's performance while booting up and transferring files, as the microchips are much faster than magnetic disks. What's more, these storage upgrades are much quieter and run cooler. They don't have moving parts, so they are far more durable than hard drives.
Calabasas Custom Built Computers
Trying to build a custom PC or Mac can be frustrating. Mounds of technical manuals, pictures that aren't clear enough, and an avalanche of information that is so confusing even the nerdiest of nerds get lost. And if you do manage to piece together a computer on your own, you will probably save some money, but chances are it may require significant troubleshooting.
Enter PC & MAC Medics. Our engineers do not just assemble a computer; they build it to your specific needs and preferences, rendering it perfect for you and your business. We take care of all the technical details, so you get a powerful computer that guarantees speed, durability, and price savings. Contact us to get your personalized PC today.
Calabasas Small Business Computer Services
It would help if you focused on growing your business, not troubleshooting stubborn computer or network issues. But again, you don't have to invest in an in-house IT department. It can be expensive, especially when trying to save money to level up your growth rate. 
PC & MAC Medics provides reliable computer services for small businesses – from minor tweaks to comprehensive repairs and upgrades – at fantastic value for money. You can rely on our expertise to buy the right computers, set them up for your business, and trust that they will not break down unexpectedly – ensuring your business stays productive and scalable. 
With PC & MAC Medics, your business receives support remotely, onsite, or even a combination of both- whenever you need us, we are always here to help.
Calabasas Motherboard Repair and Replacement
A motherboard is a critical component of a computer. It acts as the hub of communication between the other parts of your computer, such as storage devices, graphics cards, and input/output devices.
Motherboard damage can originate from excess heat, electrical shocks, or physical damage. Excelling in motherboard repairs, PC & MAC Medics technicians can determine whether your logic board needs repair or replacement, saving you the expensive cost of purchasing a new PC.
Calabasas Windows Repair and Installation
With an easy-to-use interface, Windows is a prime choice for personal and business uses across Calabasas. But sometimes, a computer may be infected with malware or a virus, rendering the windows OS inoperable. In this case, you can have our computer repair pros repair or reinstall the operating system. 
We can also help you upgrade your OS to a newer, compatible version that will make your machine deliver its best performance. 
Calabasas Mac OS Repair and Installation
Are you having trouble with your OS X or macOS? Want to upgrade to a newer MAC OS version, or simply want your Apple computer's operating system reinstalled? If so, trust the experts at PC & MAC Medics to get it done right. 
We are experienced with nearly all versions of macOS, but we make sure to figure out and install a version supported by your Apple computer. Additionally, we can back up and/or restore any data you want during MacOS reinstallation. 
Additional Computer Repair Services Include:
It is pretty hard to operate without an email in the modern world. At PC & MAC Medics, we offer a range of email services include:
Complete email setup

Implementing security features

Installing anti-spam filters

Ensuring adequate storage capacity

Troubleshoot email system issues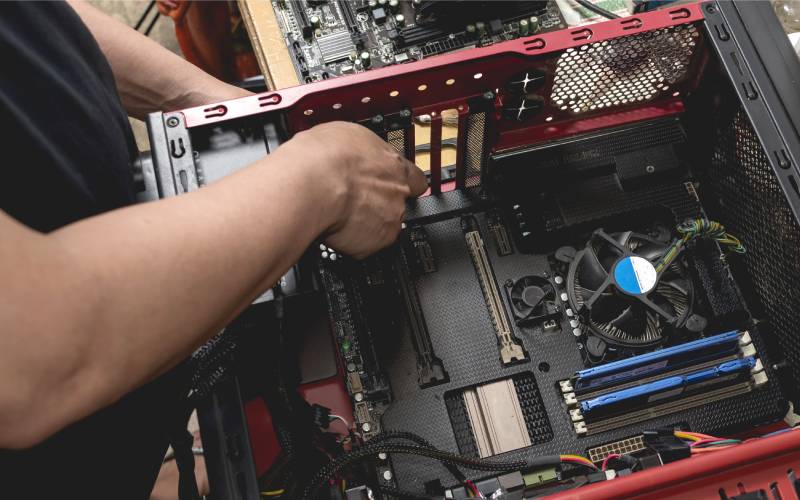 » Software Troubleshooting
We provide affordable and expert software troubleshooting services, ensuring you get your OS up and running smoothly and that your favorite programs run perfectly.
» Printer Installation and Troubleshooting
If you have problems installing or connecting peripheral devices such as printers to your computers, contact PC & MAC Medics for immediate assistance. 
PC, Laptop and Mac Repair FAQs
PC, Laptop & Mac Repair Service Center in Calabasas, CA
You hate it when your computer breaks down or hangs. Perhaps you are struggling with a malware attack or OS failure. Such computer issues become worse if you have no idea who to trust with your machine. If these frustrations sound familiar, then PC & MAC Medics might be the right choice for you. We are the pros committed to ensuring your computer systems are running at peak performance. 
A leading PC, laptop, and Mac repair service center in Calabasas, CA, PC & MAC Medics provides a range of computer services, from repairs, networking, server setup, data backup to hardware & software installation. All with a 100% customer satisfaction guarantee.
Here, we value each of our customers' computers like our own. With over 15 plus years of hands-on experience, we use top-of-the-line software and hardware to quickly diagnose, troubleshoot, and repair your computer(s) at affordable rates. 
Get in touch with us at 805-222-6290 and learn how our Calabasas computer repair services can breathe a new life into your home or business systems.
need mac pc computer repair?