Trusted Computer Repair Services Provider
Canoga Park CA, PC, Laptop & Mac Repair
Trusted, Comprehensive Computer Repair Services in Canoga Park, CA at Affordable Rates. Call 805-222-6290 for a Free Written Estimate.
Losing files to malware, spilling water on the keyboard, laptop not booting up – it has happened to most of us and usually at the most inconvenient time. But think about it, we live in a computer-centric world, and trying to fix an annoying computer issue can be time-consuming and lead to more damage (which can be expensive to fix). PC & MAC Medics comes into the picture here. 
As an independent computer repair service center, we have the resources and experience to handle virtually any computer and network issue. We put in the time and effort needed to get your device up and running, from laptops, desktops to network appliances. You enjoy the peace of mind that you will get back to business sooner- without losing money. 

Our services include screen replacement, virus removal, data backup and restoration, storage upgrade, network setup and repair, and much more.  
Free diagnostics takes the guesswork out of computer repair, ensuring that your device delivers peak performance when it leaves our repair shop. Call our technicians at 805-222-6290 and save yourself from the headache of finding a reliable computer repair service in Canoga Park, CA. 

We have a team of computer technicians that have been in business together for over 15 years.

FAST & CONVENIENT SERVICES
Power up your workflow with Fast & Convenient tech support and Repair Services.

AFFORDABLE REPAIR SOLUTIONS
Get in touch with cheap and best PC and MAC repair service in Ventura and Los Angeles County.
Top Mac Medics were amazing! They came to me and had my problem fixed quickly. I highly recommend them for Mac computer repair issues.
Had a meeting in LA when I had issues with my laptop called Top MAC Medics and they came to me fixed the issues and saved the deal. Very fast knowledgeable and reliable
Mac Medics did an awesome job. They picked up my mac and had it back up and running fast and for a reasonable price! I'd use them again for any of my computer and technology issues. I'd highly recommend Mac Medics Computer Repair to friends and colleagues. Thanks again!
My pc had a ton of issues, it would shut down with error messages, I tried everything myself to fix it via anti-virus software/reboots etc, but it came to a point where it was either call those Geek Squad guys and get nowhere, or have this guy who was recommended by a good friend to come over and fix it for half the price. I've used him twice for 2 different computers. He's your one-stop shop. I've recommended him to a few people already. He gets the job done.
Why PC & MAC Medics for Computer Repair in Canoga Park, CA?
Extensive experience:

Over 15 years of experience and a long list of happy customers earns us a spot among the best computer and mac repair specialists in Canoga Park, CA. 

Fast turnaround time

: Ready-in-stock replacement parts and our expertise ensure we complete computer repairs in the soonest time possible. We let you know when you can expect your machine back.

Affordable:

Our customers get quality computer repairs at competitive prices, free diagnostics, and upfront written estimates. Our no-fix-no-pay policy means that you do not pay a dime if we cannot find or fix the issue. 

Convenient

: With our pick-up service, you do not have to waste time and money bringing in your device.
Canoga Park PC & Mac Repair Services for Residential and Commercial Clients
Your preferred local computer repair center, PC & MAC Medics, proudly serves residential and commercial clients in Canoga Park, CA. Whether you have one or two computers in your home or an office full of machines, our technicians are always on standby to help you get the most from technology. 
Our in-depth knowledge of and experience with a broad range of PC makes and models guarantee the highest quality service possible. 
Over the years, we have garnered a trusted reputation for reliability and trustworthiness and prioritizing the needs of our customers. If you own a business, you can benefit from our technology services tailored to help your business run smoothly, efficiently and maximize potential revenue. For added convenience, you can have us pick up and drop off your PC or Mac.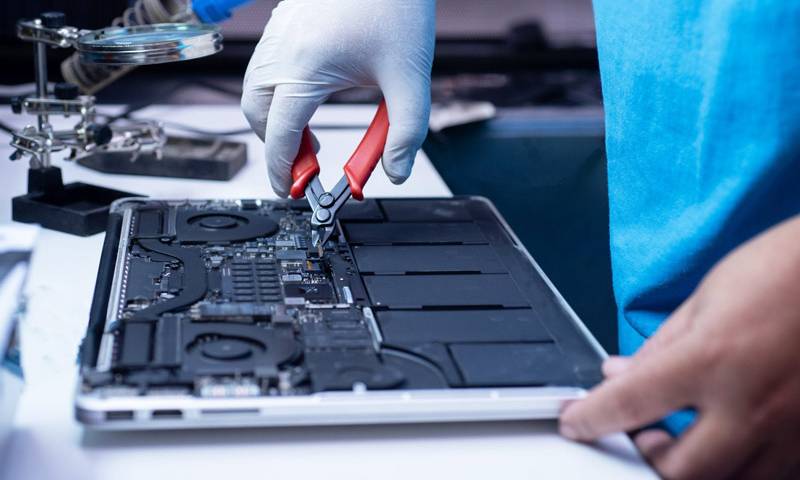 Canoga Park PC Computer Repair
For over 15 years, PC & MAC Medics has been setting standards for computer repair services in Canoga Park and neighboring communities. You will save time and money with our professional service, feel confident in our experience, and get the certainty of a fixed-price contract.  
Whether your computer has hardware or software problems, our technicians handle most PC makes and models, from old machines to cutting-edge gaming or workstation models. And unlike many computer repair shops in Canoga Park, we fix both Macs and Windows devices.  
Canoga Park Laptop Repair
Laptops come in all shapes, sizes, and capacities, each with a variety of upgrade options. Our IT medics work with these devices every day. This positions them as experts at fixing the most trivial hardware and software problems, from broken screens, poor performance, damaged motherboard, and connectivity issues. We have stocked our computer repair facility with a massive inventory of spare parts and accessories, so we fix most laptop issues on the spot. 
Canoga Park Mac Repairs- MacBook Air, MacBook Pro, iMacs
Is your Mac acting up? Apple desktops and laptops can suffer from failed hard drives, logic board failure, screen damage, or even water damage. The good news is that our technicians can fix common Mac issues, saving you from the need to invest in a new machine. 
A full-service computer repair service provider, PC & MAC Medics boasts extensive experience repairing and servicing an array of Apple devices, including iMacs, MacBook Pros, and MacBook Airs. All Mac repairs are performed by Apple-certified technicians conversant and experienced with both new and old Mac models.
Canoga Park Virus Removal Services
Viruses are sneaky little devils. Once they infect your system, the damage can be devastating, from data loss, slowed down performance, blue screen of death, and much more. Besides, these malicious programs change, so even if your current antivirus software worked, it might not solve new infections. 
For effective and affordable computer virus removal services, turn to PC & MAC Medics. 
Our professional technicians use advanced antivirus tools to eliminate malicious codes from your system and prevent future attacks. We can help with any malware, including ransomware, trojans, worms, bots, spyware, adware, etc.
Computer Network Repair in Canoga Park, CA
Perhaps, you have a massive home, an industrial workplace, or a restaurant, and your wireless internet is not delivering to your expectations. Stop wasting valuable time troubleshooting the issue with your network- our IT experts are just a call away. 
We offer remote support and same-day onsite services for home and business networks in Canoga Park, CA. Our IT pros boast the proper training and experience to resolve any network-related issue from network setup, upgrades to troubleshooting. We also help upgrade your routers and implement a new mesh WiFi system for more reliability and better performance. 
Hard Drive SSD Upgrade in Canoga Park, CA
We can upgrade all desktop and laptop hard drives to SSDs, giving you much better performance at an affordable price. With a solid-state drive, you enjoy faster booting, loading of software, and speedy multitasking with even more responsiveness. Websites load almost instantly (instead of 30+ seconds), and there's no lag when accessing local files or folders.
HDD-SSD upgrade also means less heat generation (great for a laptop on your lap) and quieter (no longer clunk-clunking) while in use.
Canoga Park Custom Built Computers
Creative professionals in Canoga Park need more amounts of computer processing power for game design, audio production, video editing, photography, or virtual reality. Our custom PC build service helps fulfill such demands. 
With over 15 years of computer service experience, we focus our custom machines around reliability, power, performance, and durability. 
Our customers get PCs customized to their budget and specific requirements. Whether you want a home or office desktop/laptop, workstation, or gaming machine, feel free to consult with engineers on what is important to you and the right parts for your system. Our turnaround time for custom machines is usually 2-4 days, considering assembly and testing. 
Canoga Park Small Business Computer Service
If you are looking for a small business computer service provider in Canoga Park, CA, PC & MAC Medics boasts a pool of IT nerds ready and equipped to serve your business needs. 
We understand that technology disasters happen- often at the most unexpected times. And the longer you wait to have a system breakdown solved, the higher the chances of losing customers and money to the competition. 
PC & MAC Medics offers comprehensive and customized computer services to help Canoga Park businesses keep their systems fully operational. You also get the assurance that a computer, network, or server technician will be available to you whenever you need our help. 
Our technicians are hand-selected under a comprehensive recruitment process and are trained and experienced in various technological elements of a business, including:
Computer and server troubleshooting, repair, and maintenance

Data backup 

Network installation, security, upgrades, and migration

Software installation, updates, and troubleshooting

Cloud computing 

Email setup and support

Malware removal and protection

Business systems maintenance 
Canoga Park Motherboard Repair and Replacement
If your brand name or custom computer crashes suddenly or will not power on, the culprit could be motherboard damage. The motherboard is that large board of circuitry in your computers to which all components connect. It is pretty fragile, with common issues originating from overheating, physical forces, and electrical surges. 
It takes a lot of know-how and time to diagnose and fix issues with the motherboard. Troubleshooting often requires a careful elimination process, which is why you should not attempt a DIY motherboard repair.  
Computer repair technicians at PC & MAC Medics have over 15 years of experience troubleshooting and repairing motherboards. 
If motherboard repair is not an option, replacement is inevitable. However, it is not just about picking a new logic board and hoping for the best. An incompatible motherboard will place unnecessary strains on other components, leading to part or device failure. If your motherboard is unsalvageable, our technicians will do their best to find and install a compatible and reasonably priced replacement.
Canoga Park Windows Installation and Repair
A user-friendly interface makes Windows a popular computer operating system among individuals and businesses in Canoga Park, CA. Our technicians have vast experience with Windows installation and configuration, including updates and drivers. 
Microsoft OS Installation requires a current license. Devices with a preinstalled operating system have the product key on a sticker. If the license is unavailable on your machine, we can offer you a copy of the OS at a discounted price. 
Some of the Windows issues we help resolve are:
Computer will not boot into Windows

Resetting administrator password

Safe mode not working 

PC crashing

Blue screen errors

Slow booting 

Files opening with the wrong application
While we can solve most Windows issues, sometimes a reinstall becomes necessary. 
Still, you do not have to lose your existing OS when upgrading to a newer version. You can have our pros set up your Windows OS in a way you can access both systems.
Canoga Park Mac OS Installation and Repair
Is your Mac slowing down? Are you noticing frequent error messages and crashes? Experiencing storage issues? The culprit could be the operating system. 
Mac OS installation and repair can be a complicated business. Save money and time with our faster, hassle-free service, whether you want your macOS repaired, upgraded, or reinstalled. We also help update macOS to patch security vulnerabilities and enhance device performance. 
Additional Computer Repair Services Include:
Our email services for individuals and businesses include:
Email setup

Security features implementation

Email troubleshooting

Anti-spam filters installation

Storage capacity troubleshooting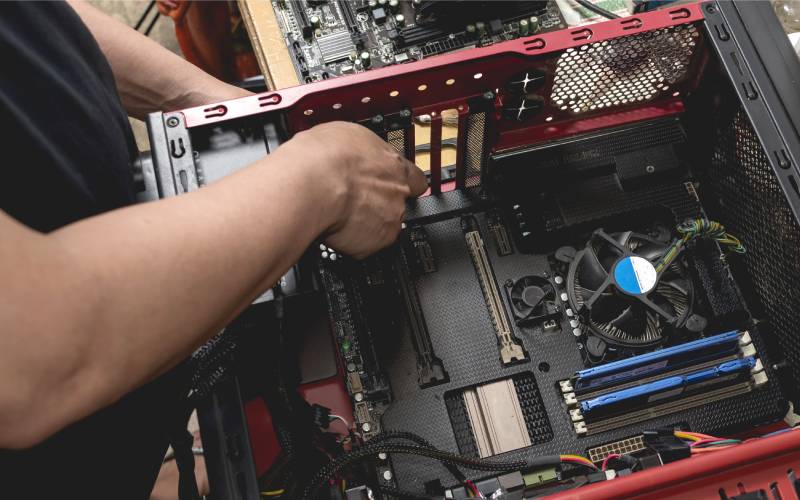 » Software Troubleshooting
Computer applications can act up, slowing down performance and disabling some functions. Our software troubleshooting service can help. 
If it is an issue with a single app, we can check for software updates, test with other files or reinstall the program. Troubleshooting multiple software programs may include:
Creating a new user account.

Resetting cache files.

Disabling third-party fonts.

Restoring the device to factory settings. 
» Printer Installation and Troubleshooting
Are you struggling to connect peripheral devices (like printers and audio systems) to your computers? Contact our team at 805-222-6290 for immediate help. 
PC, Laptop and Mac Repair FAQs
PC, Laptop & Mac Repair Service Center in Canoga Park, CA
PC & MAC Medics is a leading computer repair company providing professional services to businesses and homes in Canoga Park, CA. Besides rigorous training and certification with industry leaders such as Apple and Microsoft, we have years of experience helping our customers improve their computers' usability, speed, and security. 
Whether you need virus removal services, data backup, memory/hard drive upgrades, screen replacement, or networking solutions, we have the expertise and tools to offer the help you need. Contact us today at 805-222-6290 for fast, convenient, and competitively priced laptop, PC & Mac repairs in Canoga Park, CA. 
need mac pc computer repair?