We Fix Laptop Issues; All Major Brands Including MacBook and Windows Laptop Computers.
PC & MAC Medics understands the criticality of having your laptop fully functional. As such, we are proud to offer full-suite laptop repair and upgrade services in Ventura and Los Angeles Counties. 
Laptop not turning on? Has your screen gone blue or blank? Hardware overheating? Device performance dropped? Need a memory, keyboard, trackpad, or hard drive upgrade? No worries, our industry-certified technicians are experienced and ready to solve a ton of laptop hardware and software issues as they arise. 
Our laptop repair center offers laptop repairs for all makes and models of major brands, including but not limited to Apple, Toshiba, HP, Dell, Sony, Acer, and Asus.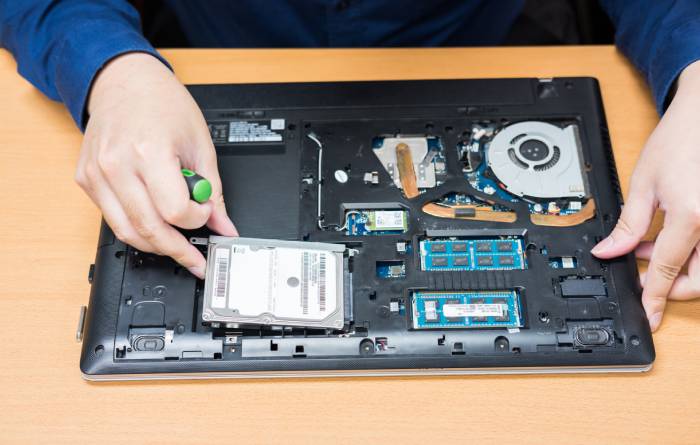 Most spare parts we use are in ready stock, and this, combined with our expertise, promises to get you back up and running in the soonest time possible. We must also mention that we repair and upgrade laptops using the highest-quality parts tested for durability, reliability, and safety. Still, we offer transparent and pocket-friendly pricing. 
Also, we are well aware that some laptop issues can be solved at home or office. So, rather than bringing your device to our shop, you can have our technicians guide you through the best solution remotely. 
The sections below will take you through our range of laptop repair services. But if you need immediate help getting your laptop up and running like new again, please contact us now at 805-222-6290. 

We have a team of computer technicians that have been in business together for over 15 years.

FAST & CONVENIENT SERVICES
Power up your workflow with Fast & Convenient tech support and Repair Services.

AFFORDABLE REPAIR SOLUTIONS
Get in touch with cheap and best PC and MAC repair service in Ventura and Los Angeles County.
Top Mac Medics were amazing! They came to me and had my problem fixed quickly. I highly recommend them for Mac computer repair issues.
Had a meeting in LA when I had issues with my laptop called Top MAC Medics and they came to me fixed the issues and saved the deal. Very fast knowledgeable and reliable
Mac Medics did an awesome job. They picked up my mac and had it back up and running fast and for a reasonable price! I'd use them again for any of my computer and technology issues. I'd highly recommend Mac Medics Computer Repair to friends and colleagues. Thanks again!
My pc had a ton of issues, it would shut down with error messages, I tried everything myself to fix it via anti-virus software/reboots etc, but it came to a point where it was either call those Geek Squad guys and get nowhere, or have this guy who was recommended by a good friend to come over and fix it for half the price. I've used him twice for 2 different computers. He's your one-stop shop. I've recommended him to a few people already. He gets the job done.
Our Laptop Computer Repair Services Include:
» Laptop Motherboard Repair / Replacement
The most intelligent part of your laptop, the motherboard, connects components and peripherals of your device. Motherboard failure can emanate from physical force, power surges, excess heat, or electrical shocks. Technicians at PC & MAC Medics can leverage their broad experience and state-of-the-art tools to repair or replace your motherboard and restore the working order of your laptop.
» Laptop Screen Repair / Replacement
The screen is quite a delicate part of your laptop. Even a modest amount of pressure can damage your screen, rendering your device inoperative. Whether your screen got broken or is simply not working, our experts have solid experience repairing all kinds of laptop screen issues. We also replace damaged displays with original spare parts at a quick turnaround and fair price. 
» Laptop Memory / Ram Upgrade
Laptop taking too long to boot? Are applications constantly unresponsive? Is your laptop frequently displaying "low on memory" errors? If you are in Los Angeles or Ventura County and experiencing such symptoms, we can help with our RAM upgrade services. We find and install the perfect match that will speed up your device. 
A broken fan, a bad battery, processing overload, or a dusty hard drive can cause heat problems in laptops. Whichever the culprit is causing your device to overheat, our engineers have ample experience to diagnose and fix this common laptop issue.
» Laptop CPU Cooling Fan Fix
You do not want to underestimate the potential of overheating – it can cause severe damage to the motherboard. If your device often heats up, you should have its cooling fan checked by a professional laptop repair technician. At PC & MAC Medic, we start by cleaning the internal cooling channels and fan area to optimize ventilation. If necessary, we also install a heat sink and thermal paste to optimize heat protection for your device. 
» Laptop Graphics Card Issues
Graphic card issues usually manifest in display screen problems, video playing issues, and sluggish computer performance when playing HD videos. Most people will advise you to replace the motherboard or even buy a new laptop if you have a graphic card problem. But as a provider of full-suite laptop repair services, PC & MAC Medics can fix the gadget, saving you from having to replace your laptop (which can be expensive).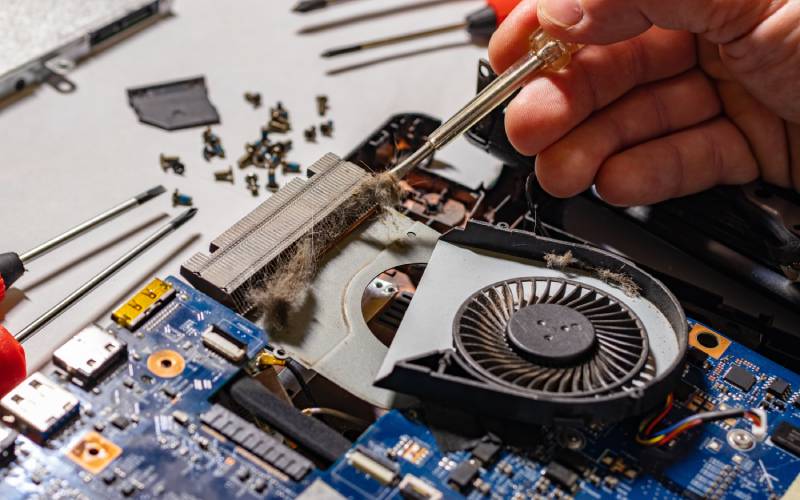 A well-reputed laptop repair service, PC & MAC Medics, rectifies all laptop Wi-Fi issues within 24 hours. From connection dropping randomly, laptop not connecting to Wi-Fi to slow connection, our technicians have the experience and tools to diagnose and fix any Wi-Fi issue your computer might have. 
» Software Troubleshooting
Our techs are trained and experienced in troubleshooting a range of software issues. If you are in Los Angeles or Ventura County, we can work on any OS, regardless of how specialized or outdated it could be. We can also help with application installation and update and removal of all detected malware. 
» Keyboard Repair / Replacement
Among the most common laptop keyboard issues are when the keys get damaged or a bad connection between the keyboard and the motherboard. Our laptop repair technicians can repair your keyboard in either situation. Furthermore, our laptop keyboard repairs are typically done on the same day.
» Laptop Power Jack Repair
A loose or broken power jack is one of the most typical laptop problems we handle at our shop. As opposed to what most laptop repair providers will tell you, a broken power jack does not necessitate laptop replacement. PC & MAC Medics provides cost-effective power jack repair services to bring your laptop back to full use. We can also replace the power jack, so you do not have to replace the motherboard or laptop. 
» Laptop Keyboard Replacement
Often, a typical manufacturer warranty does not cover a broken or water-damaged keyboard. It is therefore easy to assume that keyboard failure would require you to buy a new laptop. But before reaching any conclusions, try our keyboard replacement service. 
» Laptop DC Power Jack Repair
At PC & MAC Medics, we perform laptop DC jack repair/replacements on all leading laptop brands. Including MacBook and Windows. We stock almost every DC jack available. Still, you do not have to leave your device with us- we can perform the repair/replacement on the spot, saving you time and money. 
Are You Searching for The Best Computer Repair Service to Resolve Your Laptop Problem?
There are several things to look for in a laptop repair service in Ventura or Los Angeles County. Among the top things to look at are experience and range of services. 
The industry-certified computer repair technicians at
PC & MAC Medics
have a unique combination of experience and knowledge that allows them to resolve a full range of
laptop issues
fast and affordably. Based on our experience in diagnosing laptop problems, our technicians conduct a thorough evaluation on your device to ensure nothing is missed and subsequently carry necessary repair/replacements to get your laptop up and running again. 
Something else you will love about our shop is that we offer laptop repair services for all major brands, including Apple, Compaq, Dell, Sony, Acer, HP, and many more.   
Call us today at
805-222-6290
or
fill our online form
for fast, affordable, and reliable laptop repair services in Los Angeles or Ventura County. Our pros will be happy to diagnose your device and implement the best solution. 
need mac pc computer repair?